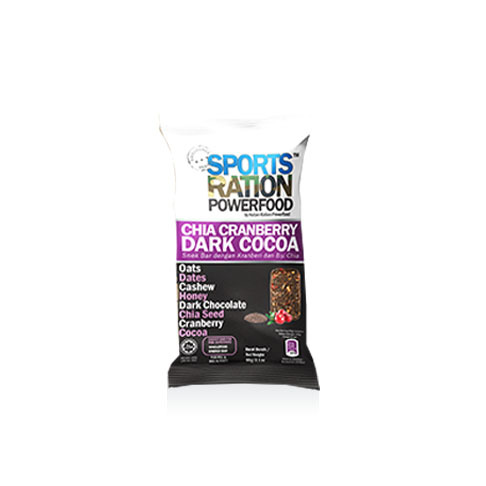 Hutan Ration Energy Bar (1 x 60g) Chia Cranberry Dark Cocoa
Energiser Pack Promo
FREE one (1) Celsius Peach Vibe with every purchase of one (1) Koda Gel & one (1) Hutan Ration Bar*
*Valid until 30 Jun 2023. While stocks last
---
Keep up your energy levels with the all-natural Hutan Ration Energy Bar.
Each bar is high in nutrients and only contains natural ingredients such as honey, dates, moringa* and a variety of nuts to keep you fueled for your chosen activity.
* This ingredient is only included in Hutan Ration Energy Bar- Kolumpa Flavour
Comes in six flavours:
Chia Cranberry Dark Cocoa (For pre and intra-activity especially long or high endurance activities. This bar is high in fibre too)


Double Choc Hazelnut (A snack bar for any time of the day. This is another variation of the Pocket Rocket bar)


Espresso Cranberry Walnut (For pre and intra-activity particularly for a quick mental boost. This is great to have when you need a wake-me-up whether in the morning or in the afternoon)


Kolumpa (This is a great bar for various long and high endurance activities including trail running, a marathon, endurance cycling, iron man, hiking and outdoor activities. Take it 15 - 30 minutes before starting your activity.)


Pocket Rocket (This bar is inspired by Malaysia's very own Pocket Rocketman and is great for long or high endurance activities. Helps curb hunger while providing a boost in energy)


Sea Salt Almond Figs (For intra and post-activity and is especially great for recovery and to avoid muscle cramps as it is high in natural electrolytes. Recommended to be taken with water for better nutrient absorption)
Pecan Gula Melaka (This bar is perfect for sports enthusiasts who demand the best for their bodies. It includes

high-quality pecans and gula melaka, which provide a slow-burning energy source that will keep you going for longer)
Whether you're out basking in nature, pushing hard in the gym or just feeling peckish at home, Hutan Ration Energy Bar is the most ration-al choice to satisfy your nutritional needs.