Between protein milkshakes, low carb cookies and vegan energy bars, we've got you covered with the latest additions to our healthy snack family.

With these snacks from myFITBOX, you can expect to fulfil your sweet cravings in a guilt-free way!
---
Check out this month's new arrivals:
#1) OPI Protein Drinks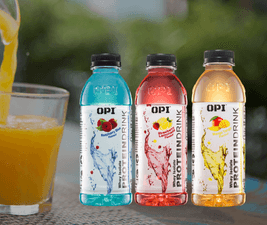 Take a break from milky protein shakes with these refreshingly delicious clear whey OPI Protein Drinks, which are available in 3 flavours. Mango Tango, Raspberry Blue, and Strawberry Lemonade.
Trust us, it tastes just like drinking fruit juice or cordial, except for the fact that it's high-protein, low-calorie and sugar-free. In fact, each bottle contains 16g protein!

These shakes from OPI, previously known as Optastar Protein Industries, are also Malaysia's first clear whey ready-to-drink protein shake. Cool, huh?

Get an OPI Protein Starter Pack to try all three flavours of this halal-certified, ready-to-drink protein shake.


---
#2: Quest Protein Cookies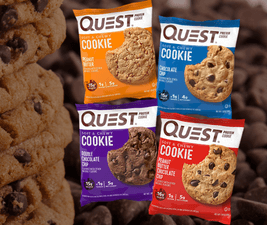 You won't need to keep your hands off the cookie jar with these soft and chewy high-protein cookies from Quest!

Since they're both low in sugar and carbs, you can be sure that they're a healthier alternative to the regular cookies you'll find in the market.

Here's a quick comparison between the Chocolate Chip Quest and Subway cookies.
| Subway Cookie - Chocolate Chip | Quest Protein Cookie - Chocolate Chip |
| --- | --- |
| 221 calories | 250 calories |
| 11g fat | 17g fat |
| 2.3g protein | 15g protein |
| 29g net carbs | 4g net carbs |
| 0g fibre | 9g fibre |
| 15g sugar | <1g sugar |
Nutrition information courtesy of Nutritionix.

At a quick glance, eating a subway cookie saves you ~30 calories and is slightly lower in fat compared to the Quest Cookie. But, if your priority is consuming more protein and less carbs and sugar, the Quest Protein Cookie is the better choice.
Psst... the Quest cookies are available in four flavours: Chocolate Chip, Double Chocolate Chip, Peanut Butter, and Peanut Butter Chocolate Chip!


---

#3: PhD Smart Bar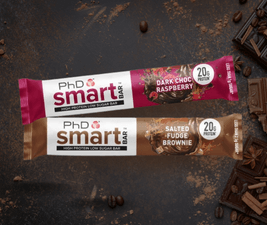 Here at myFITBOX, we like to say that this PhD Smart Bar protein bar is the most intellectual bar we have.

Jokes aside, though, the PhD Smart Bar truly is a step above the rest, due to its game-changing texture. It's crunchy on the outside and yet gooey on the inside, which reminds us of a Twix chocolate bar.

Not only that, it's low in sugar and comes with 20g of protein a piece, making it one of the most delicious ways to bump up your protein intake!

The PhD Smart Protein Bar is available in two flavours: Salted Fudge Brownie and Dark Choc Raspberry. Try both flavours with our PhD Protein Bar Starter Pack!


---

#4: Grmpy Snack Bar **NEW FLAVOURS**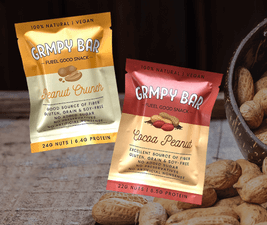 You'll never be grumpy or hangry again with these new Grmpy Bars in Cocoa Peanut and Peanut Crunch!

These delicious yet wholesome energy bars are 100% all-natural, as they are made using only whole-food ingredients.
Yep, you won't find any preservatives or artificial ingredients in these bars.

Plus, they're vegan and come with no added sugar.
Fun fact: Grmpy is also a homegrown brand and we're proud to #supportlocal by carrying these bars.
Try all six flavours with this Grmpy Bar starter pack!
---

#5: Grenade Carb Killa Protein Shake **NEW FLAVOURS**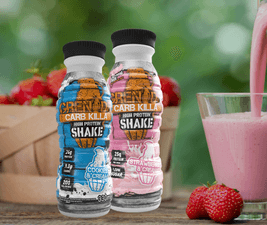 Creamy, delicious, and smooth, these Grenade protein shakes will surely bring all the boys, girls and unicorns to the yard.

The best part? Each shake is also conveniently ready-to-drink, so you don't even need to break out your blender for this!
Available in two flavours, Cookies & Cream and Strawberries & Cream, these shakes are lactose-free, high-protein and low in sugar and carbs.

We know you want it, so get it quick as we only have a limited supply!


---

#6: Celsius Energy Drink **NEW FLAVOUR**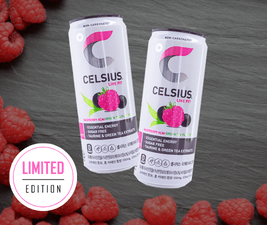 Ribena who? This limited edition flavour will surely remind you of that blackcurrant drink from your childhood.

But, you'll need to keep it away from children as each can comes with 100mg caffeine.

Also, the Celsius Raspberry Açaí Green Tea flavour is non-carbonated and sugar-free, promising to give you a delicious yet natural energy boost.

Celsius highly recommends that you consume their beverages 15 minutes before physical exercise.
We're also happy to share that myFITBOX is the exclusive online distributor for these limited edition Celsius flavours!
---

That's it from us this time.

If you'd like any of the snacks above, you can find them at selected myFITBOX vending machine locations or better yet, order them online and get these healthy snacks delivered right to your doorstep. Psst… we ship across 14 countries, including Malaysia.